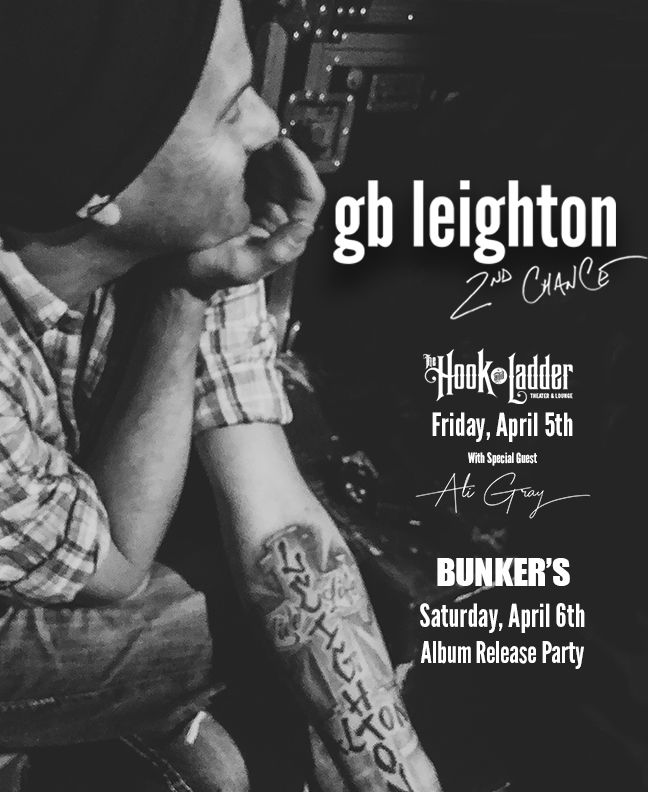 2nd Chance Album Release Party Weekend! 
FRIDAY APRIL 5th at HOOK & LADDER, MINNEAPOLIS: 
GB Leighton will be playing an intimate acoustic pre-show at Hook and Ladder on Friday, April 5th. Our friend Ali Gray will be opening. This is a special evening kicking off the 2nd Chance release celebration. Music starts at 7:30. Tickets go on sale to the public today at noon! Tickets are expected to sell out so make sure you get yours right away! 
http://thehookmpls.com/event/gb-leighton/
SATURDAY APRIL 6th at BUNKER'S, MINNEAPOLIS 
Saturday, April 6th will be the 2nd Chance release party at Bunker's Bar and Grill in Minneapolis! Full band rock! There will not be ticket pre-sales for this show. 
IMPORTANT: 
Please plan on ride share options such as Uber/Lyft, etc. The NCAA is in town the same weekend. Hotel rooms are filling up and rideshare may be difficult. You can pre-schedule your Uber and Lyft rides. We suggest to do that now so you won't have any issues on 4/5 and 4/6. Parking will be limited for both nights as well. If making a night or weekend of it, book hotel rooms early too! 
We can't wait to celebrate 
2nd Chance with you!